To the candidate having trouble with case interview analytical questions:
How to turn math questions from your biggest weakness into one of your greatest strengths
---
What if you could reliably and predictably structure, solve and take great insights from any analysis question -- no matter how tough?
  Bruno:
Recently, Julio and I talked to a couple dozen candidates who had just WRECKED their interviews because they got stuck in a math question during their last case.
Here are a few of the things they said:
OUCH!
You know, I still remember the first time this happened to me in a real interview.
I was on a roll, nailing question after question. 
Awesome structure for non-conventional case? Check! MECE brainstorming full of creative and insightful ideas? Check! Flawless way to test the unusual hypothesis I had just created? Check, check, check!
I was confident. I knew the first 5-10 minutes of the case were by far the most important, as it would create a good first impression with the interviewer.
And I could see it was working.
The interviewer was engaged, chatting with me like I were already in his team.
And then I got the math question…
Immediately, I knew I had no idea how to solve it.
I froze… And I could feel the anxiety rushing through my spine.
I knew missing it could destroy my chances of passing to the next round.
The look on my face when I got an analysis I knew I couldn't solve  😱
I collected myself fast enough, and started talking through how I could solve that question.
"Are you sure?", the interviewer asked.
I wasn't.
It was all downhill from then on.
I was too nervous to figure out what was wrong, and the more the interviewer tried to help, the more confused I got.
As he bombarded me with both questions and clues about the problem, I noticed myself getting more and more overwhelmed.
I took a deep breath… And I tried again.
But no luck.
I was working through the problem, and all I could see is that I was getting nowhere.
By now, almost all the time I had to solve the case was gone. And so the interviewer said: "That's alright, let's skip this one and move on so we can finish the last couple questions of the case…"
I was devastated.
Both him and I knew that from now on it was just procedural... We were just there finishing the case out of being polite to each other.
We had lost the connection…
And the rest of my case solving fell flat.
If not for that missed analysis, I would've done an A+ case. He'd probably vouch for me passing to the next round in the recruiting committee… 
And I would've gone home happy. 
Happy that I did a good job, and happy that my efforts were likely to pay off.
But I completely messed it up, and there's no chance they'd pass me vs. the other candidate who did a great case AND got the analysis right.
---
Now, shit happens and it's okay. I dealt with it, improved and moved on.
Eventually I developed my skills up to the point that I'd be able to ace any analysis thrown at me. Which is important if you want to get offers, by the way.
But you know what's weird?
Had you asked me before the interview how my math skills were, I'd be pretty confident about them. I knew I wasn't ELITE at it, but I wouldn't guess it'd go so bad.
What I didn't know at the time is that this was a ticking bomb. It was pretty obvious that was about to happen to me.
It was a matter of when, not if.
Essentially, my quantitative analysis skills were not reliable. 
Sometimes it worked and I could get to the final answer, and sometimes I felt like a blind man trying to stumble upon the right number.
And because my skills were so inconsistent, there was NO FREAKIN' WAY I'd get it right in all the interviews (first and final round) that I needed to get an offer.
Now, here's the most interesting part:
If I were coaching my past self, I'd immediately spot that issue.
This is interesting to you because you can do the same.
You can self-diagnose and see if this will be an issue for you based on what has happened in past interviews and recent mock-interviews you've done.
How?
It's simple. 
Just look for "the 5 signs"…
The 5 signs you'll fail your analytical questions
When you work with so many candidates trying to pass their cases, you start to notice patterns…
Back when we did coaching, Julio and I had two key numbers we tracked: (1) how many of our clients got offers from target firms (60-70%), and (2) our "prediction rate" – if a client would pass their next round, and if not, the specific reason why.
Of course the offer rate was the most critical number. It's the one everyone asked before working with us.
But the prediction rate had a specific purpose that was, in my view, as important: it told us if we were diagnosing our clients' key issues right.
It's probably the most important part of being a coach.
I couldn't promise an offer to everyone. Some people had just a week to prepare. Some had a lot of trouble in critical skills. Some had just one shot at one firm. A couple were actually unlucky.
But it was 100% my job to tell them at any given moment if they were ready to get an offer and, if not, what's the ONE THING that would prevent them from success.
And our prediction rate was HIGH. Consistently higher than 95%.
Why am I telling you this?
Because you can borrow from our experience.
In the case of analytical questions, there were 5 specific clues. Five specific behaviors that signaled that a candidate was about to mess up big time in their math questions.
(And all of them were fixable, by the way.)
Here they are:
SIGN #1: You improvise your way to an answer
You get a math question and without pause, jump in and just "wing it".
Maybe you create a structure, because you've heard you're "supposed to". But you rarely stick to it – usually it doesn't even work, anyway…
You trust your intuition whenever you get an analysis… But that also means you either "know" how to solve it, or you have ABSOLUTELY NO CLUE.
This was me in my first handful of interviews. The bad habit of trying to improvise my way to the answer got me in trouble several times.
And if I hadn't fixed it, I'd never have gotten offers at McKinsey and Bain. It'd be borderline IMPOSSIBLE.
Looking back, the reason I used to "improvise" is that I didn't really know how to be more structured about setting up the steps and equations to solve case math. But more on that later…
SIGN #2: You're chaotic and confused
You always "get lost" while working through the numbers, and whenever faced with a large amount of data it's pure chaos.
And because of that, it's always stressful.
All the stuff is mixed up in your paper, and hence your communication is confusing too.
Heck, you sometimes even forget what parts of the analysis are already done.
Maybe you've missed an OBVIOUS step once or twice:
"Oh, I just had to multiply the results per store by the number of stores… How could I forget that?", you think to yourself as you order the Uber back home.
The point is: you can't talk through the math in a way that's clear both to YOU and YOUR INTERVIEWER.
And it's impossible to reliably solve math problems that way.
SIGN #3: You often cannot structure a path to the final answer
You're diligent. 
You know you must create a clear and structured approach before you start doing math.
You're not trying to "wing it".
And you understand you need a step-by-step way to solve it – being messy or unclear is NOT an option.
But you just can't.
Structuring the damn math question is almost always the hardest part of the case for you.
And so you try to get better…
You ask your friends how they create those equations, and the answer is always the same: "I just do it."
You know if you fixed this one thing, you'd go from missing 50% of your cases into acing 95%+.
There's only one missing piece of the puzzle… 
But no matter what you do, you just can't seem to fix it.
SIGN #4: You feel mathematically insecure (aka: "you're bad at math")
You go into the interview already in fear: "I'm bad at math, what if the interviewer notices that?"
Maybe you weren't good at math in school… 
Maybe you were decent, but this whole "do it fast and under pressure" thing isn't for you.
I've worked with dozens of candidates who felt a bit insecure about their math talent. The vast majority of them do have the underlying math skills – consulting math isn't rocket science, after all.
Still, their insecurity becomes a self-fulfilling prophecy.
They fear being "bad" or "slow" at math, and that fear stresses them out. 
And that stress makes them not think clearly.
What could be a small disadvantage (that they'd be able to overcome) is amplified by a boatload of self-doubt.
And then it becomes a huge burden. 
It drags you down during the math parts of the interview. And sometimes it even spills over to the other parts. You're so nervous about the math that you mess up even in the parts you were supposed to be good at.
SIGN #5: You miss 50% of your analyses and think there's nothing wrong with it
Some candidates simply ignore reality, bury their heads in the sand and pretend there's nothing wrong.
I once worked with a candidate who, no kidding, missed 4 in every 5 analyses he did. When I pointed out to him that fact, he said this wouldn't be a problem because he was an engineer from a top school.
He always had an excuse…
"Oh, I just messed up the percentages in that one."
"Oh, I have trouble with big numbers when I'm not paying much attention."
"Oh, I just didn't know that business formula."
It was all true… And I bet he was great at math too – he was the one who could do advanced calculus, after all, not me.
But he was also not good at case math. 
And the problem wasn't going away.
Eventually, I convinced him (through cold hard data about his mistakes) that he had to work on this. He ended up getting an offer at McKinsey (and made no math mistakes in his interviews).
But if I wasn't there to help him see the obvious, it's possible he'd just pretend math wasn't an issue, and sabotage his way into failure through the incredible power of cognitive dissonance.
(How do I know that? Simple. He had done more than 50 cases before working with me and still hadn't spotted the issue…)
But what if you were good at this?
Here's what would happen...
I've worked with a lot of candidates who stress out every time they get an analysis when solving a case.
Candidates who feel like they're playing a lottery. A lottery that determines if they'll be able to finish the case or not.
Who go into interviews praying that they'll get one of the "easy ones".
If you're like that, it helps to see what could be instead…
To a lot of candidates, it's just another question:
They listen to the interviewer and calmly create a structured approach to solve it...
If they're unsure about something, they don't freak out. Instead, they talk to the interviewer, and clarify the terminology, business model or metric they're unsure about…
Then they start the math, but only after BOTH them and their interviewer already know they'll get to the right answer, because it's all clearly laid out in front of them…
And as they get to the correct final number – with no stress, confusion or overwhelm – they tie it back to the case and articulate what the number means to the client and how to move the case forward.
It's a calm, confident set of words and actions that always leads to the right answer. 
It's almost peaceful to watch.
Now, you might be asking yourself... Is it because they're naturals at this?
Not really!
Yes, I've seen people who were pretty good (and eventually became great) at quant analyses since their first few cases.
But I've also seen people grow and develop this skill.
People who were previously "bad at math", messy, confused. People who tried to improvise as they went because they honestly didn't know how to plan a solution to the problem before solving it.
Some of them needed extensive coaching to get there. Others got there by themselves – often after a LOT of practice.
Yet, all of them only got there after realizing one thing, and one thing only: they realized that case math was just another skill.
Not something that's "just for naturals". Not something that "might eventually click if they try enough".
To learn it you need a method that works and you need to practice it.
Just like any other skill.
Now, I'll tell you about a method you can use to develop this skill in a bit. And also how to have a system to fall back to when things turn sour.
But before we get into that, there's something important to talk about first…
See, no method will work if you focus on the wrong things.
That's because any method you can use to improve your analysis skills will have different parts and teach a bunch of different things. And if you focus most your attention on the least important things and ignore the things that actually matter, you simply won't improve.
In other words… 
There are two components of the "how to solve your math problems" blueprint: (1) knowing what really matters so you know what to focus on within any given method, and (2) actually having a method to improve so you can make rapid and predictable progress in your skills.
As I said, we'll tackle the method soon enough, but first we need to tackle the 3 Big Myths of case math… 
The 3 big things that make people FOCUS ON THE WRONG THINGS and thus makes them spin their wheels, waste hundreds of hours and never really improve.
The 3 Big Myths of case math
Almost EVERY candidate who's still having trouble with analytical questions despite trying to improve through more practice/preparation is operating under at least one of these big myths.
And the first step to improving is taking these out of the way…
Big Myth #1: "Doing fast mental math is all I need to do well"
You probably hadn't had to do arithmetic without a calculator since high school. 
And it's super uncomfortable to realize that doing long divisions and multiplying large numbers became challenging once again.
Maybe that's why inexperienced candidates obsess over doing math in their heads, and think the faster the better.
Now, while most people are indeed rusty with their computations and will need to practice this a bit, the blunt truth is this:
It doesn't freakin' matter.
Yes, your interviewer wants to see that you're numerically comfortable.
(You might need to do "out loud" math in front of your clients, after all, and it doesn't hurt to look smart while doing it.)
But no, they don't care if you're a human calculator that can compute percentages half a millisecond faster than the next candidate.
You're probably never going to be as fast at math as this 10-year-old... Sad. But does it really matter?
In fact, if you can't structure the math clearly enough before you "do the math", your slick mental math skills are worth ZERO…
… Yet, if you can clearly outline an approach to your analysis better than anyone else, it doesn't really matter than you're a bit slow on the arithmetic side: your interviewer knows you'll be the fastest to model an error-free analysis in the real job.
Big Myth #2: "I'm doing poorly because I'm bad at math / I don't know the right business formulas"
"Ah, if only I were a STEM person who was born doing calculus or an MBA who knows all the formulas…"
Then things would be easier, wouldn't they?
Sadly no… Not really!
It's funny… 
All the STEM people with analytical issues blame it on "not knowing the right formulas", and all the MBAs with the problem blame it on "not being a math person".
Now, the reality is that there are maybe 3 or 4 relevant formulas in case math, and they're all extremely simple (you know, "Revenues – Costs", or breakeven formulas). Heck, if you don't know what a breakeven is, you can even ask!
All other "formulas" besides the most basic ones are designed so that you should be able to deduce yourself from the words of the problem, not recall from memorization.
(Which is actually kind of the point of these analyses.)
And the math itself? It's 6th-grade one-variable equations.
Nothing fancy. No calculus or trigonometry. Not even quadratic equations.
What consulting firms really test is NOT how advanced your math skills are, or if you know the coolest business formulas. It's not even how fast you are at "mental math" (as discussed above).
The thing they're actually testing is your ability to get a real world problem, with all its context and nuances, and transform it into a structured math problem that you can solve (and one day, model in Excel).
If interviewers were keen on checking your advanced math skills, they'd ask you to price financial derivatives using the Black-Scholes formula. Clearly, that's not the point of doing cases with you...
Yes, being good at math helps.
And yes, not gonna lie, knowing some common business formulas does help as well…
But I bet 95% of the people who mess up analyses all the time could solve any of them easily if they came in clearly structured and all you had to do was the "solve for X" part…
… Which means if you can structure them well, your life will be much, much easier.
(And by the way, you don't need a PhD or an MBA for that.)
Big Myth #3: "I just need to practice more math drills"
So, you have trouble with analyses… What do you do?
Most candidates just practice more. 
They download mental math apps. They look for math drills websites. Some do GMAT/GRE exercises, and most print dozens of casebooks in order to do just the math portion of (hundreds of) cases.
For a lucky few, this works: all they needed was indeed more practice.
But for the vast majority of people doing this, improvement is slow. Worse, they hit a (low) ceiling in performance quite quickly – and then they plateau.
Now, don't get me wrong… 
I LOVE drills as a method to get targeted improvements in specific skills. If you've ever used any of our courses, you know we build them around practice drills because we believe in them so much as a tool to improve.
But there's a problem…
To use drills to successfully improve, you first need to have a system.
Drills are a great way to solidify your skills and learn to apply them to a variety of situations.
But they aren't good for learning "in a vacuum".
In fact, if you just do drills without a method, without learning the technique first, you'll just get FRUSTRATED.
Frustrated because you keep missing the answer.
Frustrated because you see the recommended answer and have no idea how they got there.
Frustrated because you do more and more work to improve and just feel "dumber", because you're not actually going anywhere.
And the reason why you have no method is very very simple… 
No one gave you one.
As one candidate said to me:
The way people teach you to solve case math usually involves some of the following:
They tell you you should create an equation to solve it (without telling you how)…
They give you a ton of "word problem"-style questions that are both easy and very similar to each other (and thus don't cover the real stuff you'll get in real interviews)…
They show you cute tricks to do mental math quickly, and emphasize it as if that were the "make or break" factor.
Of course, they pretty much IGNORE the fact that people who fail math questions almost always fail for two very particular reasons:
Failure Reason #1: They can't reliably create the formulas/step-by-step approaches upfront, and end up needing to improvise as they go.
Failure Reason #2: They can't extract 'so-whats' from the results of their analyses (often because they "tunnel-vision" into the math and lose perspective of the case).
So, obviously drills help… But only AFTER you HAVE A SYSTEM to reliably and predictably solve these questions.
And since none existed, Julio and I decided to create one…
We've looked into 193 real case math questions looking for the perfect system -- here's what we found...
Okay, so what is this system I keep talking about?
In fact, can you actually have such a system? I mean, all math problems are different, right?
Well, sure… But if there's one thing I learned from consulting, it is the power of finding patterns by looking at massive amounts of data/situations.
And so, Julio and I got our hands dirty. We collected, analyzed and categorized 193 real case math questions.
A small sample of the analysis and chart questions we analyzed and categorized in order to create the Analytics Academy system.
We were in search of the hidden patterns and key techniques that'd RELIABLY help you structure, solve, and take great insights of virtually any analysis you could get in your cases.
More specifically, we were looking for 3 things:
Thing #1: Bulletproof math structuring techniques. We already knew a bunch of techniques that worked. But what were the key techniques that, if you knew, you could be confident you'd be able to create a clear step-by-step process to every single quant question, no matter how hard or overwhelming?
Thing #2: The KEY PATTERNS behind the most common analysis questions – We wanted to find the hidden patterns among those 193 questions so that you could learn how to solve any analysis way more efficiently. We later found out there are only 5 key "archetypes" of analytical questions that represent ~90% of what you'll get in real interviews (more on that in a bit).
Thing #3: Only the right drills for you to practice and master analyses. We didn't want to give you 900 questions to spent the next 6 months toiling away with nothing to show for it. Instead, we aimed for just the right drills to help you master structuring, mental math, and getting to the key "so-whats" of ANY analysis question (including those that fall beyond the "key patterns").
And one more thing:
As we worked through the questions and started finding these patterns and the techniques that worked best… We decided we didn't want to run the risk of it not being useful to real people with real "math issues".
(In other words, we didn't want to create a whole new method that only worked on paper…)
Which is why we thoroughly tested this method as we were creating it – in real-time, and with real candidates who felt challenged by analytical questions.
A couple of the many Zoom calls Julio did with candidates to test the method -- and hone it to perfection.
Some of these candidates were awake at 3am for these lessons. (Blurred faces for confidentiality.)
And as we polished this system, improved our live lessons and eventually put a handful of candidates as beta testers of our course... 
... We started seeing results like these: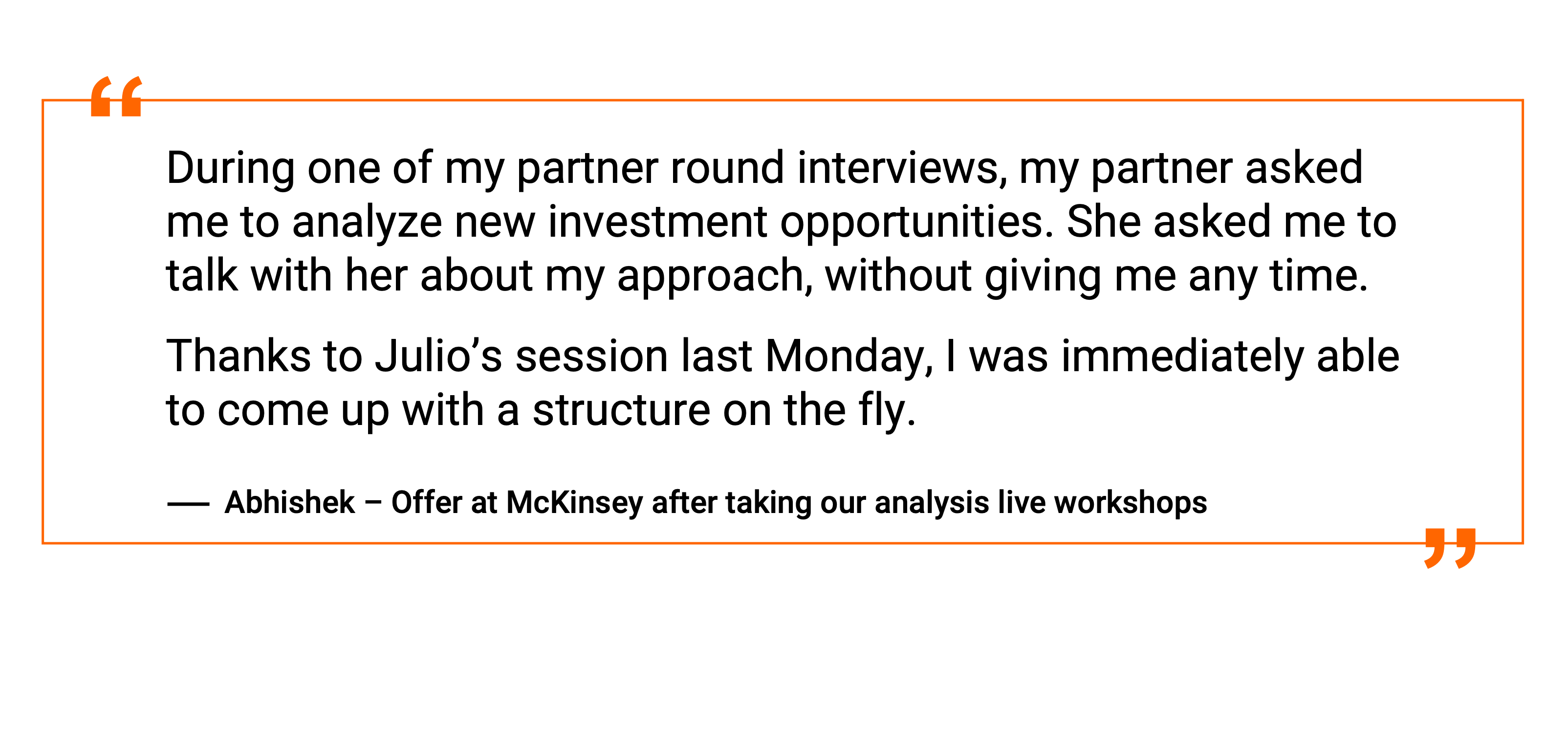 In the end, we ended up crafting a method that:
Helps you go from "bottom 30%" (aka: you miss 50%+ of your analyses)  to "top 10%" in case math (aka: you solve them smoothly 95%+ of the time) in a deliberate way.
Gives you the confidence to know you'll solve ANY analysis in a clear and deliberate way, even if you've never been a "math person".
Focuses on what actually matters: the skills your interviewers are really looking for, the types of questions you're truly going to get, and the patterns and techniques that'll definitely help you when you're in a critical moment in your interviews.
All that so you can learn this skill without having to work through a thousand math exercises, without having to second-guess how others got to the correct results, and without feeling like "something is missing" when it comes to the systems of solving case math.
We worked hard so you could have a no-bullshit, end-to-end system that just works.
And today, I invite you to check it out…